Clippership Overview
Clippership®is the most recognized and widely deployed multi-carrier shipping system among shipping and logistics professionals today. It is an attended shipping solution for organizations managing a small to medium volume of small parcel shipments using one or more shipping stations. Clippership provides compliance for shipping with UPS, FedEx, DHL, USPS, BAX Global, Eastern Connection and less-than-truckload carriers.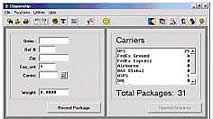 This parcel shipping software enables dramatically faster, more efficient, accurate, and cost-effective shipping for customers who wish to significantly improve all of the steps involved in the order fulfillment process while meeting the requirements of carrier compliance.
Clippership enables customers to:
Enforce and leverage their shipping strategies for increased profitability
Ship packages faster through completely automated shipping and seamless integration with existing applications
Cut shipping costs with automatic rate-shop comparison
Improve accuracy by reducing manual data entry and user selection of carrier/service errors
Maintain carrier compliance with easy application of carrier rate changes
Reduce accessorial charges and vendor charge-backs with address validation and vendor-compliant labels
Automation Across Multiple Carriers is Fast, Efficient and Cost-Effective
Clippership provides fast processing of shipments for customers who require multiple-carrier instant rating and routing, vendor- and carrier-compliant labeling, and manifesting and carrier uploads. Whether the goal is to eliminate unnecessary costs from the supply chain, make customer service a priority, or enhance order fulfillment processes for a competitive advantage, Clippership delivers value in managing carrier shipments through:
Fast and cost-efficient shipping processes with "1 click shipping"
An intuitive user interface that simplifies the process of managing and shipping with multiple carriers, saving organizations time and money on training users
Business rule capabilities that enable companies to streamline their shipping processes
The ability to easily add new carriers for expanded shipping options at anytime
Implementation by experienced consultants who bring knowledge of the best practices for the small parcel industry and help maximize the return on investment
Logic Systems Engineering enables our customers to maximize the benefits of their shipping solution implementation by integrating the data generated from the shipping application with other business-critical processes. A component of the Clippership solution automatically facilitates the exchange of information between a customer's existing applications and technology to leverage their existing infrastructure investment.